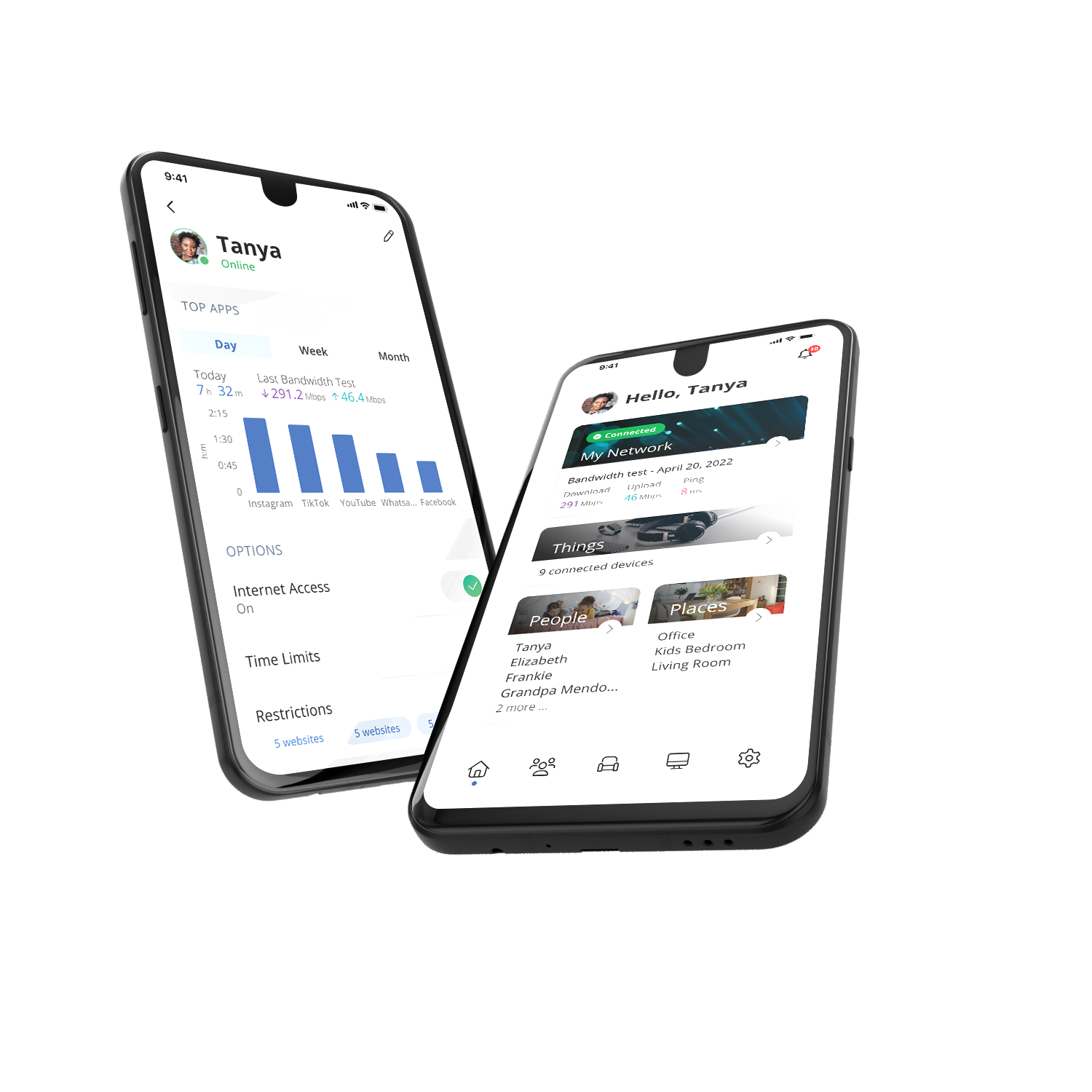 Managing your home network has never been easier.
Command IQ gives you an instant snapshot of your home.  Through the app you can view all connected devices on your network, set up parental controls or a guest network, change your password, and more.  
How it works:
Command IQ is a free app that allows you to view devices and manage your network at a basic level. 
Enhance the app with an option of two programs—Protect IQ and Experience IQ—starting as low as $5 a month or even free with certain packages. 
Handheld Control
Quick and Easy Setup
Search for the Command IQ app in the App Store or Google Play.
Download to your smart phone.
Create account and connect to your Jamadots modem.  Use our Quick Start Guide to walk you through the setup.
Enjoy commanding your home network.
Share the app with another person in your household.  Add a Secondary Admin click here
Want to enhance your connection?  Add Protect IQ and Experience IQ to your Wi-Fi network for as low as $5 a month.
Simply Secure
Protect IQ is a whole home network security system that is included with our top Residential Fiber-Optic packages. This program acts as a shield for your network protecting your devices from Cyber Threats starting at your router. 
Your devices are important to your life. Protect IQ is your 24/7 internet watchman. With multi-layered protection, even your most vulnerable devices like smart TVs, thermostats, and Wi-Fi cameras are protected before issues happen. Data coming into your network will be scanned for viruses and other malicious content and you can receive a notification if content is blocked.
No equipment is required.  Protect IQ is integrated in your Wi-Fi router and used in conjunction with the Command IQ app.
Protect IQ is constantly hunting for viruses and malware.
Protect IQ is updated daily to keep you safe.
You can personalize settings within Protect IQ on the Command IQ app.
Complete Control
Experience IQ monitors, prioritizes, and filters online traffic in your home network with two powerful tools: My Priorities and Parental Controls. 
My Priorities eliminates disruptions by giving chosen devices priority over your bandwidth.  You can set schedules to send the bandwidth where it is needed the most and prioritize favorite devices to eliminate buffering. 
Parental Controls allow you to set screen time limits, block entire categories for apps and websites and add safe search to certain devices. 
With Experience IQ, you can create custom profiles for everyone in your household assigning certain devices and even set them per room. Ready to activate Experience IQ and get power in the palm of your hand for just $5/month?
Only available on the Jamadots Fiber-Optic Network.